eViewPlus - Getting started
How to set up an eViewPlus account and log into the system for the first time.
Setting up an eViewPlus account
Please email eviewplus@tdlpathology.com
Logging in for the first time
1. When you receive an account set up confirmation email from Reports@tdlpathology.com, use the link in the email to access TDL eViewPlus. There you will be presented with our Terms and Conditions.
2. Enter the username and setup password provided. Your username is the email address the original link was sent to.
3. The first time that you login, you will be asked to create your own password and to confirm it. Once you have completed both fields, please click the Submit button.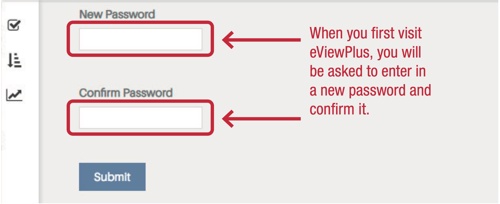 Next you will see the main interface. At the top right you can click on your name to change your password or logout. The left hand menu has options to create a New Request with Barcode, view Request Lists or to do a Results Search.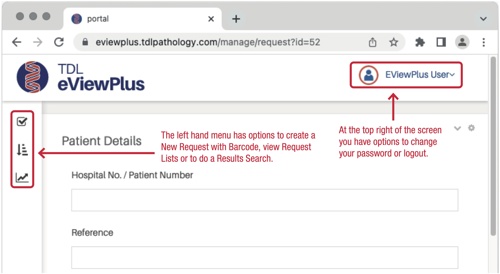 Quickstart guide
2. To create a request form ,select New Request in the top left corner in eViewPlus.
3. Complete the details that are relevant to your request. Not all fields need to be completed but the test code is required on the Request Details panel. On the Patient Details panel, the minimum patient information required is: Forename, Surname, Sex and DOB.
4. Click Save in the bottom right corner.
5. Select Download Request if that hasn't happened automatically.
6. The request form is now ready to print and must accompany the sample back to the laboratory.
Tips
Your username is the email address the original link was sent to.
If you can't log in, please click the Forgot password link at the login page, enter the email address, and follow the instructions in the email.