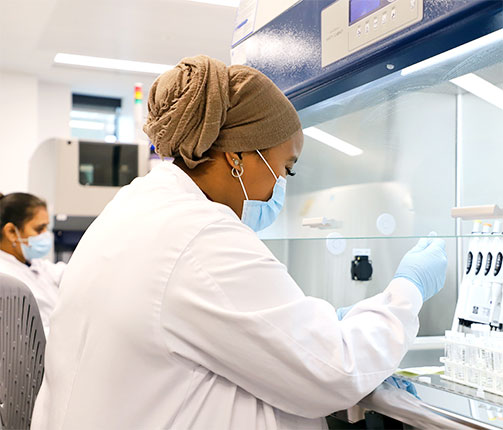 TDL has been testing for COVID-19 since the disease first emerged. The team has developed new detection methods, worked closely with hospitals and with those opening their own labs, and by January 2021 had the capacity to process more than 20,000 PCR tests a day.
When the outbreak of COVID-19 occurred in Wuhan City, China, in December 2019, TDL was running a respiratory panel which included seasonal coronavirus and a separate assay for MERS CoV. Understanding the implications of the sequence of SARS CoV-2 when it was published, the team's Scientific Lead, Dr Paul Grant, designed an assay to detect the virus by PCR, and integrated it with the usual respiratory testing workflow.
As the weeks went by and more positive cases began to emerge in the hospitals, more testing was required. The UK, as one of the later countries to develop positive cases, was at a distinct disadvantage for access to reagents – much of the supply for the PCR test had already been used across Europe. Reagents were in extremely limited supply and the chemicals needed to extract the RNA from the virus were not available.
In response to these shortages, the laboratory team developed a new assay that did not require extraction, details of which were covered in a preprint publication in the online journal BioRxiv, and shared with other NHSE laboratories and our own corporate group, Sonic Healthcare.
At this same time, TDL worked with The Francis Crick Institute to set up a COVID-19 PCR-testing laboratory in their facility. In addition, in August 2020, another laboratory for COVID-19 PCR testing was set up at University College London for frontline NHS staff testing.
TDL has worked closely with London hospitals, supporting the Royal Free Hospital Group's High Consequence Infectious Diseases Unit, where the initial index patients with COVID-19 in the UK were treated. TDL supported the London Nightingale Hospital with clinical leadership and pathology transport, and has also been involved in projects undertaking COVID-19 antibody testing for research projects investigating vaccine production, use of convalescent plasma and analysis of prevalence in care homes throughout England.
In September 2020, TDL provided a rapid COVID-19 testing service for the 'cataract drive' at Moorfields Eye Hospital. The project aimed to carry out 1000 cataract operations over the period of a week – four times the number of cataract procedures normally undertaken.
By the end of September 2020, the Halo laboratory was processing more than 10,000 samples a day. This capacity grew further with the opening, in December 2020, of a winter COVID surge laboratory at the Halo – a major national Government project which drew in much of the team's expertise and intensive management experience. This new COVID laboratory on Level 9 of the Halo Building has enabled a further 10,000 people to be tested daily in addition to our current capacity.
More recently, TDL has been supporting the identification of SARS-CoV-2 variants of concern. Such variants arise through mutation of the virus, which could affect vaccine efficiency and pathogenicity and virulence, all of which might lead to the need for changes in clinical and public health decisions.
The current drive is for SARS-CoV-2 variants, if considered to have concerning epidemiological, immunological or pathogenic properties, to be identified for formal investigation. At this point they are designated a Variant Under Investigation (VUI) with a year, month, and number. Following risk assessment with the relevant expert committee, they may be designated a Variant of Concern (VOC).
TDL has been selected to represent the NHS England laboratories in the London 2 Region to provide 24-hour turnaround testing for positive COVID-19 samples to determine the presence of key variants of concern. This enables Track and Trace to quickly identify people who may be positive for such variants – all processed in the surge laboratory on Level 9 of the Halo Building. The achievement and commitment of three individuals, awarded collectively with a British Empire Medal, an MBE and an OBE for services to Health Care Science during this first year of COVID-19 Response reflects the overall capability of the laboratory as a whole, now able to process of 20,000 patients' samples every day.